Catalfumo Companies, the iconic and long-time Palm Beach County developer, will soon celebrate the launch of their latest project, Landing at PGA Waterway. This luxury marina-front residential community is located in the heart of The Palm Beaches, featuring an exclusive collection of just 98 residences and numerous innovative resort-style amenities. The community's enviable homeport on the corner of the Intracoastal Waterway and PGA Boulevard, however, is not the only aspect attracting people to this one-of-a-kind community. The growth of this project will also greatly benefit the local job market as well as the Palm Beach County market.
Mentoring Small Palm Beach County Businesses
As the visionary leader behind Landing at PGA Waterway and the founder of Catalfumo Companies, Dan Catalfumo has paved the way for business growth throughout the city. Born and raised in the area, Catalfumo has made it his life's work to focus on development and construction within Palm Beach County, and to provide jobs and quality work to local companies. He has a "local-preferred" mentality, and through his vast 40-year portfolio, has mentored several small companies to help them scale up. Dan himself is a resident of Palm Beach County, works in Palm Beach County, and the people around him are from and within Palm Beach County. That is the Catalfumo Way.
Committed to Hiring Locally
Catalfumo Companies is committed to hiring a minimum of 80-85% local workforce from Palm Beach County (both direct employees and vendors). The recently launched Landing at PGA Waterway development is projected to create 300-400 new jobs in Palm Beach County alone. Additionally, instead of hiring outside companies, Landing at PGA Waterway's development team is primarily comprised of local Palm Beach County firms that have all been expanding their presence and footprints together as the county grows. Catalfumo Companies is excited to support these locally established and growing firms.
Spina O'Rourke + Partners (Palm Beach Gardens natives) will be creating a striking architecture plan, with the help of Landscape Architects 2GHO (based out of Palm Beach Gardens) to design the private enclave's 11 lush acres. Working with their local outpost in West Palm Beach, Suffolk Construction will be the general contractor for the community. Finally, The Decorators Unlimited (headquartered in Palm Beach Gardens) will bring sophisticated luxury to Landing at PGA Waterway's interior designs.
Dan will also be working with local vendors, including Palm Beach Glass, for the collection of materials. Tony Rodrigues Metal Framing has grown from 2 employees to 22 full-time employees through mostly working on various Catalfumo projects. Selected for the concrete work, the family-run Pate Construction company is Catalfumo's residential neighbor, and shares in Dan's commitment to hiring locally.
Catalfumo Companies | A Track Record of Quality and Success
Catalfumo Companies is built on the core values of integrity, quality, and service. Established in 1978 by Daniel Catalfumo, the business has become the largest privately-owned development firm in Palm Beach, successfully completing over 75 million square feet of real estate with an aggregate value of over $8 billion. An ever-present culture of meticulous attention to detail and visionary expertise ensures quality from the ground up. Catalfumo Companies' solid reputation was built from developing other successful projects in the area, including the development of 2700 N Ocean in Singer Island, construction management of The Ritz-Carlton Golf Club & Spa in Jupiter, Legacy Place in Palm Beach Gardens, Oasis in Singer Island, and numerous projects along PGA Boulevard.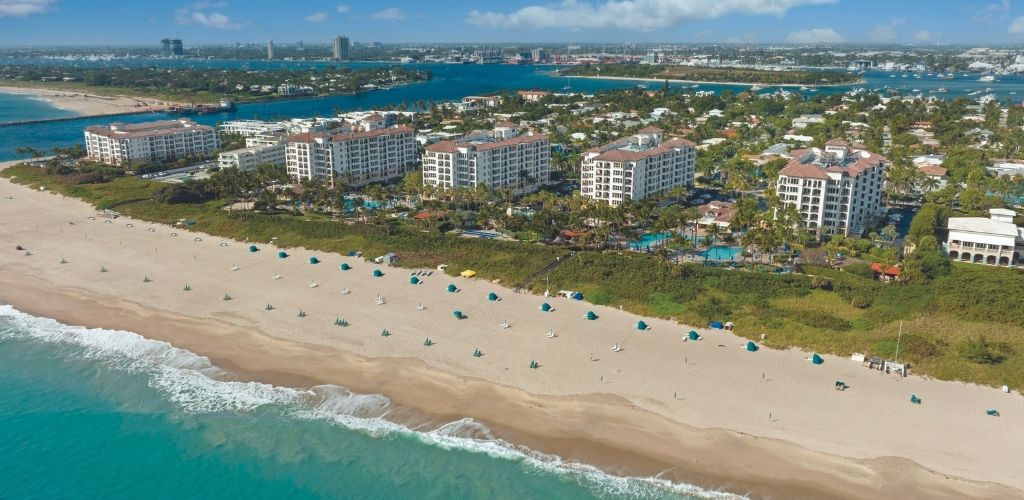 Marriot Ocean Pointe, Singer Island
Discover Palm Beach Gardens' Only Luxury Marina-Front Residences
Developed by Catalfumo Companies, Landing at PGA Waterway will be the first and only marina-front residences within Palm Beach Gardens. Each ultra-luxe three, four, and five-bedroom residence is designed for optimal enjoyment and entertainment, with soaring floor-to-ceiling windows and private terraces providing elevated and unobstructed views of the picturesque Intracoastal Waterway. Ranging from approximately 3,100 to 5,000 interior square feet, every detail within these private enclaves has been meticulously planned to offer cutting-edge technology and best-in-class residential features.
Future residents of Landing at PGA Waterway will also enjoy an unprecedented waterfront lifestyle, with a limited collection of boat slips available for lease, accommodating vessels up to 75 ft. in length. An array of resort-style amenities will also include a 100-foot infinity-edge heated swimming pool with cabanas overlooking the Intracoastal Waterway, a multi-level waterfront clubhouse with welcoming entertainment spaces, a spa with various treatment rooms, a state-of-the-art fitness center, and on-site concierge, among many other offerings.
Priced from $4 million, pre-sales for Landing at PGA Waterway are slated to commence soon. Join the VIP list to stay updated and be included as more information is released. Please visit LandingPGAWaterway.com or call 561-403-1011 for more information.
As Featured in Forbes, Contributed by Peter Lane Taylor.
Link to read the full article.
Contrary to various public misconceptions, Mar-a-Lago—the exclusive Atlantic oceanfront resort that frequently served as former President Donald Trump's "Winter White House"—didn't make Palm Beach, Florida's lavish real estate and lifestyle famous for the first time around.
The Sunshine State's "Playground for the Wealthy" long has been uber-posh, dating back to the late 1880s when oil tycoon Henry Flagler first built The Breakers and The Royal Poinciana Hotel which eventually became the centerpieces of his luxury, southern hospitality empire catering to northern old money and spawning the now infamous "Billionaire's Row".
So it shouldn't come as a surprise either that even after Trump's 2020 Oval Office departure, Palm Beach's luxury real estate market isn't showing any signs of decelerating even if Air Force One isn't landing in town anymore.
Writ large, part of the froth is because South Florida in general has been on a bull market run since even before the pandemic.
Low taxes, warm weather, business friendly regulations, and burgeoning innovation ecosystems were already luring finance firms, tech start-ups, and executives to Miami, Fort Lauderdale, Palm Beach, Tampa, and Orlando before 2020 as fast as California and New York could shed them. COVID-19 just widened the highways and threw away the speed limits.
The compounding in-migration over past few years, however, has resulted in one of the most unsubtle real estate ironies here in decades: after years of booms, busts, and frequently tumbling prices, South Florida now has a big-time housing and inflation crisis that few people were anticipating.
At the highest ends in places like Palm Beach—a.k.a. "Wall Street South"—where billionaires, CEOs, sports stars, and celebrities like Tiger Woods, Sylvester Stallone, Michael Jordan, Bill Gates, Larry Ellison, Steve Wynn, Jon Bon Jovi, and Ken Griffin have been digging in for years, the supply crunch is even more acute.
Since the beginning of the pandemic, Palm Beach County's luxury, single-family homes sales—including Palm Beach, Palm Beach Gardens, West Palm Beach, and Palm Beach Islands—have increased by 53.5% year-over-year while the average time on market has plummeted to 58 days in the first quarter of 2022, a 57.2% year-over-year drop. In North Palm Beach and Palm Beach Gardens specifically, where only 89 active single-family listings are currently active, home sales are up 68% year-over-year with total volume jumping from $678 million to $1.34 billion.
Similarly eye-popping, the numbers for Palm Beach County's mid- and high-rise condo sub-market aren't far behind: average days on market decreased by 41% in 2021 over the same period in 2020, while first quarter 2022 luxury condo closings are up 54% from 2020.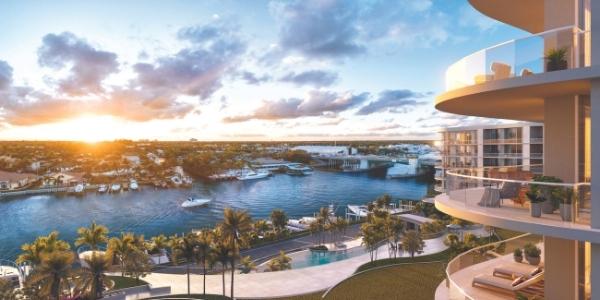 Developers and real estate investors are rightly trying to keep up.
Related Group recently announced plans to bring a new Ritz-Carlton Residences high rise to West Palm Beach, while South Flagler House, a $400 million luxury condominium, is on track to become one of the most expensive residential developments in the U.S.
Meanwhile, multi-million dollar condo projects that have been under construction for years are well-timed to start absorbing buyers starting in the next few months, like Amrit Ocean Resort & Residences, SeaGlass, Nautilus 220, Icon, La Clara, Forte, and Alba.
Notwithstanding all of this new inventory, however, a lot of the long-term drivers behind Palm Beach's supply crisis aren't easily tractable—which other similarly tight and tony zip codes in Silicon Valley, Long Island, and Los Angeles could learn from. Many of the buildings about open up were sold out months ago or pre-sold pre-pandemic so they're not even putting a dent in existing or future demand.
Land is also scarce, sprawling, multi-generational estates are common, and most residents who have lived here for years whether full or part-time roundly agree that if you already own one of the few waterfront properties available why not hold onto it, especially when price appreciation is outpacing the bull stock market?
Each of these factors individually is an incentive for developers to build. But for locals collectively, they're a glaring red light not to sell, particularly when it comes to single-family homes and estates. There's also no small bit of NIMBYism ("Not In My Back Yard") invisibly at work here when it comes to the prospect of denser, more overtly visible developments.
All of which means that every new Palm Beach luxury real estate project which adds new inventory while simultaneously satisfying the increasing demand for larger floor plans, hotel-style amenities, and waterfront views at scale is great for prospective buyers and companies looking to relocate here—and even better for the developers building them.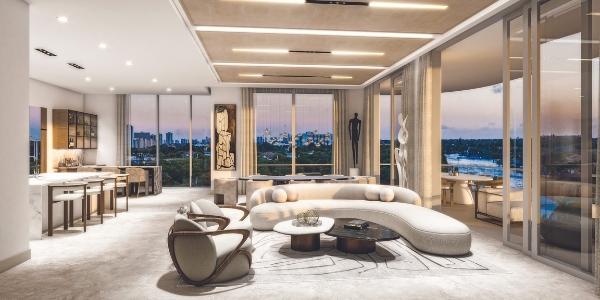 This fundamental shift—from South Florida's historically dense condo model to full-floor, all-glass, single-family, high-tech, high- and mid-rise "residences"—a.k.a. "homes in the sky"—is no small turning point. Developers will need to change their design, technology, and financing paradigms. Buyers will need to be patient.
What is clear to anyone paying attention, however, is that these trends for more space, more resort-level, work-from-home luxuries, better, high-touch service, deeper experiences, and longer horizon investing on the part of buyers are here to stay.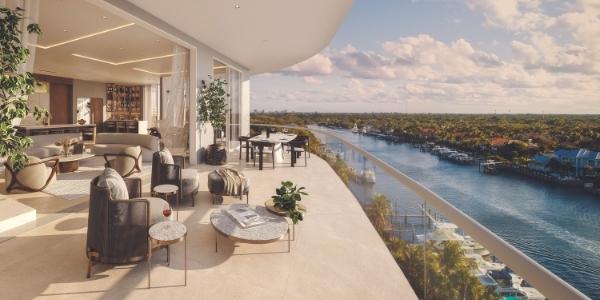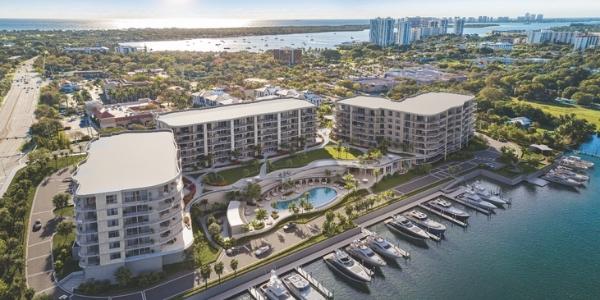 Given this context, the announcement by long-time Palm Beach-based developer Catalfumo Companies that it's just launched the Landing at PGA Waterway is huge news for one of America's most inventory starved cities.
"Palm Beach Gardens has become the ultimate, luxury real estate enclave in South Florida," says founder Dan Catalfumo. "It's now attracting even more refined and notable individuals relocating to the area. And from this came the inspiration for Landing at just the right time."
The Landing will offer 98 flow-through three, four, and five-bedroom residences ranging from 3,100 to 5,000 square feet spread out over three, 6-story buildings on the last remaining 11 contiguous acres of open land in Palm Beach Gardens directly on the Intracoastal Waterway with yacht access to Lake Worth, Palm Beach Inlet, and Jupiter Inlet.
The development will also include a private, 26-slip marina for power and sailboats up to 75′, 100-foot infinity-edge swimming pool, resort-style cabanas, a clubhouse, spa, guesthouse suites, high-tech in-unit features and finishes, and an on-site concierge.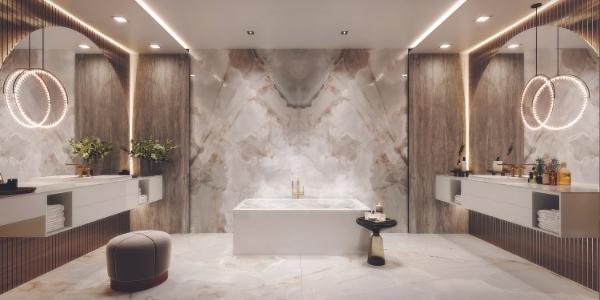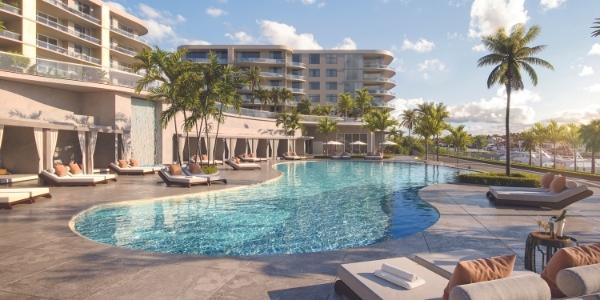 If anything about the Landing at PGA Waterway sounds over-amenitized given Palm Beach's supply crunch, it's not.
"This is what today's market and buyer demands," says Kevin Spina, Sales Director of The Spina Team of Landing's luxury "sky villa" approach to merging single-family home space and design with the amenities and service of a 5-star resort.
"Palm Beach County is now a flourishing hub as major companies are migrating to the 'Wall Street of the South'. We are excited to bring Landing at PGA Waterway to this thriving market and anticipate that it will transform the way we understand and experience luxury waterfront living."
Residences at Landing at PGA Waterway start at $3.9M with pre-sales to commence June 1st. The project is slated to break ground in the third quarter of 2022.
There's a buzz about Palm Beach Gardens as Catalfumo Companies has just announced the launch of Landing at PGA Waterway. Perfectly situated along the Intracoastal Waterway at PGA Boulevard, this luxury community will be the first and only marina-front residences offered in this premier destination.
Landing at PGA Waterway will offer 98 ultra-luxe residences in a boutique, gated community setting, ranging from approximately 3,100 to over 5,000 sq. ft. The residences will offer the finest interior appointments and features while overlooking the shimmering Intracoastal Waterway.
Residents will enjoy an exceptional Palm Beach lifestyle with the peace of mind of living in a private, gated community. Homeowners will take advantage of two levels of undercover parking with six levels of residential rising above the Intracoastal shoreline.
The highly anticipated waterfront community will surround a unique, multi-level Clubhouse amenity overlooking the waterway. World-class amenities will include a fully staffed arrival lobby, Resident club room, state-of-the-art fitness center, expansive pool deck with cabanas, outdoor gathering places, and a limited number of boat slips for lease, accommodating vessels up to 75 ft. in length.
Renowned South Florida Developer, Dan Catalfumo of Catalfumo Companies, is the visionary leader behind the luxury residential community. Founded in 1978, the company is one of the largest family-owned and operated development firms in the Southeast United States, with a successful track record of landmark properties in Palm Beach Gardens. Catalfumo is recognized for its exceptional quality and thoughtful design brought to every project.
In Palm Beach County alone, Catalfumo Companies developed The Ritz-Carlton Residences on Singer Island, Addison Reserve Country Club in Delray Beach, and The Ritz-Carlton Country Club in Jupiter. They have also developed the five buildings within Marriott's Ocean Pointe in Palm Beach Shores. Despite their expansive portfolio, CEO and founder Dan Catalfumo agrees that this property will become his company's most pinnacle project.
"With such a unique setting and one of the last remaining pieces of land on PGA Boulevard, we are looking forward to bringing something new and elevated to the Palm Beach Gardens community," said Dan Catalfumo. "The Palm Beaches have become a destination for the world, and we are delivering something unavailable anywhere else in South Florida."
Palm Beach Gardens and the PGA Boulevard corridor is a thriving coastal community. The area boasts some of the best beaches in Florida, world-class dining and shopping, cultural and creative discoveries, and is known as the "Golf Capital of the World." The Gardens Mall and nearby Worth Avenue offer an abundance of designer shops and specialty restaurants. Nature lovers enjoy the John MacArthur Beach State Park, with 1.6 miles of pristine shoreline, water sports, nature trails, and more to enjoy. Boaters, fishermen and divers relish the easy access to spectacular offshore adventures, and The Palm Beaches serve as the yachting gateway to the Caribbean.
Landing at PGA Waterway is conveniently located to Palm Beach International Airport and the private jet center at North County Airport just minutes away. Convenient access to both Florida's Turnpike and Interstate 95 brings the sporting and entertainment excitement of South Florida within easy reach.
Landing at PGA Waterway is in its final planning stages, and pre-development project information is available by private appointment only. Join the VIP list to stay updated and be included as information is released. To join the VIP list and stay updated on the latest news, visit LandingPGAWaterway.com or call (561) 403-1011 to learn more.